Life in today's world is hard; we deal with a lot of complexities and problems that challenge our mental and
emotional well-being
. With the fainting pace of our society nowadays, we can easily fall under a state of anxiety or depression. Studies have revealed that more than 70% of hospital patients are confined due to tension-related sickness. This is a reality in our modern life that is experienced by many but can be avoided if you are proactive enough to improve the quality of your life.
Are you stressed or depressed?
Mental health
and
emotional health
mean the same, as they both relate to a person's total well-being or psychological health. Being mentally or emotionally healthy means that you are able to cope with life's trials, pull through from any obstacle, and develop healthy relationships with your family and others. Enhancing you mental health is definitely a gratifying journey to take, as it will improve everything about you and your life. You will become a better and happier person for yourself and for those around you.
However, mental health is not just about being problem or worry-free. It also involves having a positive attitude in life. Life is never perfect and no matter how well you avoid complications, challenges will always come your way and having a positive attitude will help you deal with life better.
The following positive attitudes contribute to achieving mental and emotional well-being:
1. Being passionate about life amidst any challenges and still finding a reason to smile and have fun
2. Finding purpose and meaning in every endeavor or relationship
3. Being adaptable to change
4. Having the openness to learn new things
5. Maintaining a good balance between career, family, and other activities or relationships
6. Being self-confident
7. Being happy and content with what you have achieved
8. Having the ability to handle stress and recover from hardships
For me, the most important attitude from what I have enumerated is the last one, which is the ability to handle stress and recover from hardships. Difficult times and painful experiences will always be a part of life - frustrations, loss, defeat, and drastic changes. Going through these situations is hard but if you are able to muster enough courage and determination to overcome them, then you have this powerful capability called RESILIENCE. Resilient people are the most mentally healthy as they have this amazing ability to manage and recover from tough conditions. Even during hard situations, they maintain their focus and positive attitude. They are able to handle stress gracefully and convey their emotions properly in such a way that it does not hurt him/her and others.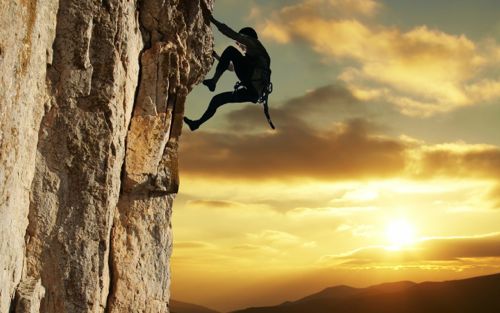 Be strong and face life's uphill battle
Mental/emotional health is what I aim for; this is what we all aim for. What about you? What actions do you take to achieve it?
~~~Shyxter